When I was pregnant with my first child, I got a lot of "advice" from friends and family about how my life would change and we would have to slow down and how my enthusiasm for travel would have to be put on hold for a while. I took all the advice with a grain of salt, determined to prove them wrong and continue to travel with my kids, just like I used to before I had them.
Fortunately for me, my husband was just as enthusiastic about traveling with our kids and was extremely interested in showing them the world, just like me. He was super encouraging and helpful during the whole process of planning, staying on the phone for hours with airlines to make sure we got a baby bassinet and hot water to warm our daughters' milk, to packing and dragging our luggage all over the world.
We have made numerous journeys within the US and abroad including several trips to India, of course. We even went to South Africa for the Football World Cup with our 15 month old. She went with us to all the games and loved it!!!!
I would highly recommend travelling with kids to all parents, even though it sounds intimidating and a little crazy!!! It is the BEST way for you to bond with your child, show them the world, expose them to different cultures, foods and languages and, most importantly, for you to get back in control of your life. You don't have to give up travelling to be a good parent and be there for your kid. In fact, the opposite is true and you should embrace travelling and all its challenges!!!!
Several mom friends have been asking me for advice on travelling with their kids, especially long distance travel to different countries or airplane travel, since they see us do it often and enjoy all our trips so much. I decided to put down a list of some of the main baby care essential items that helped me travel a little easier with my kiddos and helped make the trip enjoyable for all of us. Hope it is helpful to you as well!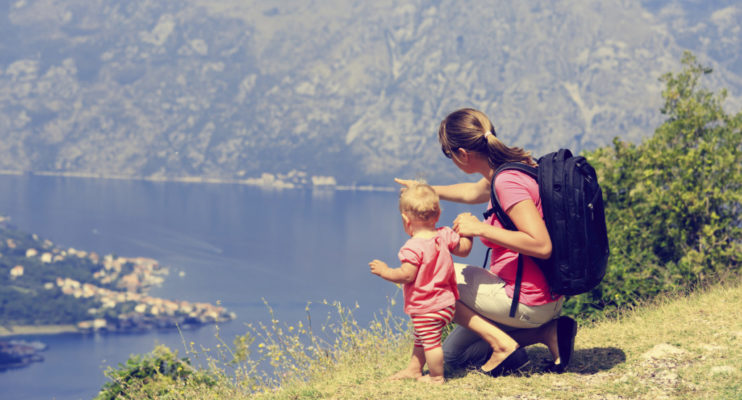 1. Car Seat – Car seats are a must for us when we travel because we almost always rent a car (allows us to travel at our own pace) when we get to our destination and it is much safer for babies to be strapped into a seat instead of using the car seat belt (which is impossible to do with infants anyway). Driving in a new place comes with its own challenges and the risk of accidents or other problems tends to be higher. We always rent a car seat when we travel. Another advantage of a car seat when travelling with infants is that it snaps in and out of the car very easily so you can transport your sleeping child to and from the car without waking them up. This helps maintain their nap schedules while letting you enjoy eating at a nice restaurant. Of course in the US and many other countries, it is mandatory to use a car seat or booster seat for children till they are 12 or you could get a ticket or worse.
2. Pack and play/portable crib – I have always found it hard to share those tiny hotel beds with my kids and they would always want to cuddle in with me because they are not used the surroundings etc, etc.!!!! It led to all of us sleeping badly and being tired and cranky the next day. I learned after my first trip with my older daughter that a pack and play was a life-saver and let us all sleep better through the night! It kept her cozy, safe and sleeping and it put mommy in a much better mood too!! You can get kids excited about sleeping in it by "practicing at home" before you go on a trip. It can also be their own "camping" in the room experience. I highly recommend taking one wherever you go!!!
3. Stroller – When we travel, we like to explore our new surroundings and not just be stuck in a hotel/resort. To be able to move around and be out and about all day, we also take a light travel stroller with us. These strollers usually weigh under 5 kgs and fold up into portable, stand alone units and are extremely useful to push kids around in all day! My kids would just fall asleep in them when it was naptime or eat their fruit and snacks in it while we walked around looking at museums. Also, the extra storage space at the bottom helped me carry all those shopping bags with ease 😉
4. Baby carrier/kangaroo bag – This item is also extremely useful if you want to walk around and explore or engage in kid friendly activities like going to the zoo, aquarium etc. It lets little kids be at eye level with the animals and have the freedom to touch, smell and see everything while still being safely stuck to you. It helped me many times, especially when I was travelling alone to have one kid in the stroller and one on me in the baby carrier. This way I could keep both of them safe and they could still see and enjoy all our vacationing sights. The baby carrier and stroller are also extremely useful at airports because they keep kids safe and by your side but also let you have free hands to pull out passports, tickets, boarding passes and snacks at a moment's notice.
5. Toys and coloring books – travelling on an airplane for more than 2 hours with children can often ruin the vacation before you even get there! Kids are notoriously bored on airplanes and even movies and ipads fail to entertain them after the first 30 minutes. I have learned to carry an arsenal of toys and books with me for them as well as endless supply of snacks to keep them occupied on longer journeys. This helps to maintain my sanity and prevents other passengers from shooting killer looks at you and your kids 20 minutes after take off. Some ideas for hands on toys include play dough or clay, coloring books and markers, magnetic toy box with magnetic stick on dolls and clothes, a box of colorful paper clips that they can use to make necklaces, bracelets or a garland. A cookie tray and some magnetic letters and numbers are also easy to take and provide long-lasting entertainment!
So, don't shy away from that much deserved vacation, young mommies! Your child will love it and learn a lot. As for you, it will be a little different but with a little preparation and the right gear to assist you, you will get to make incredible memories with your baby.
Would love to hear your views and experiences!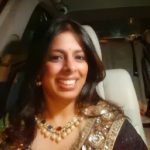 ABOUT THE AUTHOR
Mansi is a mother of two adorable girls, a linguist, a pre-school teacher and street food junkie. She is based out of Austin, Texas, US.